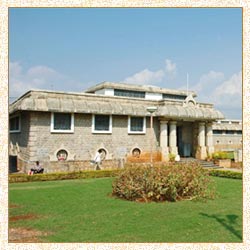 Nagarjunakonda is a valley situated in Guntur District of Andhra Pradesh. It lies at a distance of approximately 150 km from the capital city of Hyderabad. Nagarjuna Konda is named after Nagarjuna, a Buddhist monk, who lived here around the turn of the 2nd century AD. A magnificent example of ancient Buddhist architecture, it is remake of the original Buddhist site. The original valley was shifted, as it was at the danger of being submerged under the Nagarjuna Sagar Dam. The valley symbolizes a lost civilization, which flourished thousand years ago.
A number of excavations were carried out here, coming up with the Maha Chaitya, Viharas and Monasteries. Some of the most ancient items of Buddhism were also unearthed during the excavations, like Buddha statues, relics, stone images, Jataka tales encrypted panels and other items of Buddhist origin. It is believed that the antique sculptures belong to the Ikshvaku rule. The ruins of a university have also been found at Nagarjunakonda. There is also a museum, known as Nagarjunakonda Museum, housing all the important excavated items.
How to reach Nagarjunakonda
By Air
The airport nearest to Nagarjunakonda is that of Hyderabad, well connected with all the major cities of India.
By Rail
Macherla, 20 km from Nagarjunakonda, is the nearest railway station.
By Road
It is well connected with Hyderabad, by road.