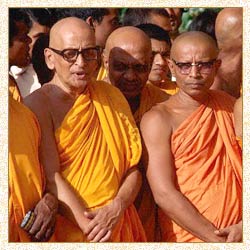 The western counties saw the emergence of Buddhism somewhere around the 19th and the 20th century. The scholars as well as the colonists of that time are credited with the origin of Buddhism in the West. One of the major incidents in the journey of Buddhism in the West was the establishment of the Pali Text Society. This nineteenth century society was the result of the efforts of T.W. Rhys Davies. Another name worth mentioning in this context is that of Edward Arnold.
His poem, The Light of Asia, brought the teachings of the Buddha to a wider audience. Not to be forgotten is Christmas Humphreys, an English barrister. He was responsible for the creation of 'Buddhist Lodge' in the year 1924. After the Second World War came to its conclusion, Alan Watts played a significant role in the propagation of Zen Buddhist teachings throughout the western countries. In 1976, a British monk named Sangharakshita (Dennis Lockwood) established the 'Friends of Western Buddhism Order' (FWBO).
Till the mid of 20th century, Buddhism in America was mainly practiced by the small Chinese communities, comprising of manual workers. It was only around 1950's that Buddhism started surfacing in the native population of America. In the 1960s, cultural changes started taking place in the country. This served as an excellent help to the spread of Buddhism in America, especially Zen and Tibetan Buddhism. Presently, Buddhism is one of the fasted growing religions in America. Buddhism is also becoming more popular day by day in Australia.