The Ajanta caves are situated in the Aurangabad district of Maharashtra, India. The caves, thirty in number, are said to have witnessed the prosperity as well as the decline of the two sects of Buddhism, the Hinayana and the Mahayana. They are adorned with paintings, scriptures and architecture of both the sects. The Ajanta caves served as the residence of the Buddhist monks and religious devotees for more than 800 years. Today, these caves hold the distinction of being declared a World Heritage Site by UNESCO.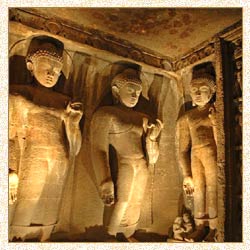 Ajanta Caves signify the transition from the Hinayana sect of Buddhism to the Mahayana sect of Buddhism. The Hinayana sect made use of the stupas and other rock forms to represent Buddha. On the other hand, Mahayana sect used idols. Cave number 8, 9, 10, 12, 13 and 15 belong to Hinayana, the older sect. While, those of number 1, 2, 16, 17, 19 and 26 are related to Mahayana sect. The 19th and 26th caves are Chaityas. Some of the caves have not been finished till date.
Cave number nine, ten, twelve and thirteen were prepared in the first phase and date back to somewhere between 2nd century BC and 1st century BC. Cave number nine and ten comprise of the Chaitya Halls or shrines. Cave number twelve and thirteen basically served as viharas or monasteries. The second phase came up with cave number one to seven, eleven and forteen to twenty-nine. All of these caves date back to somewhere between 5th century AD to 6th century AD.
Cave number nineteen, twenty six and twenty-nine comprise of Chaitya Halls or shrines. While, cave number one to seven, eleven, fourteen to eighteen, twenty to twenty-five, twenty-seven and twenty-eight are viharas or monasteries. Cave number two, three, five, eight, twenty-three to twenty-five and twenty-eight are still unfinished. Many caves are adorned with sculptures depict Buddha preaching in a sitting position.
How to reach Ajanta Caves
By Air
The nearest airport of Aurangabad is approximately 108 km away.
By Rail
Apart from Aurangabad, one can also go to the Jalgaon railway station, approximately 58 km away.
By Road
Ajanta Caves are well linked to Mumbai by road. Bus services are easily available.