The town of McLeodganj is situated in Himachal Pradesh, India. The town dates back to the mid 19th century when it was established as a British garrison. Mcleodganj was initially the home of the semi-nomadic Gaddi tribe. Today, it serves as the residence of His Holiness, The 14th Dalai Lama - Tenzin Gyatso. However, even now, a considerable number of Gaddi families live in the villages around Mcleod Ganj.
Tourist Attractions in McLeodganj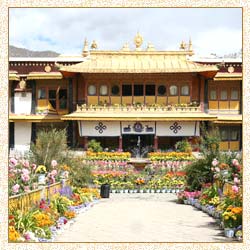 Residence of the Dalai Lama
The Dalai Lama lives on the south edge of town. He came to Macleod Ganj in the year 1960 and since then, he has been living here only. Most of his house has been transformed into government offices, while he occupies only a small portion of the entire complex.
Tsuglagkhang
Tsuglagkhang, the main Buddhist temple of Dharamsala, is situated just opposite the private residence of The Dalai Lama. It houses the images of Shakyamuni, Padmasambhava and Avalokitesvara, all of them sitting in meditation postures.
Gompa Dip Tse-Chok Ling
Gompa Dip Tse-Chok Ling is a small monastery situated at the foot of a sharp road. The main prayer hall of the monastery is adorned with the image of Shakyamuni. The other attractions of the monastery include its beautiful and intricate mandals.
Library of Tibetan Works & Archives
There is also a library of Tibetan works and archives in McLeodganj. It comprises of a rich collection of almost 40 % of the original Tibetan manuscripts. There is also a photographic archive in the library.
How To Reach
By Air
The nearest Airport is at Gaggla, approxiamtely 13 km away from the town.
By Rail
The nearest railway station is that of Pathankot, approxiamtely 85 km away.
By Road
There are regular bus services from Manali, Delhi and Shimla to Dharamsala.