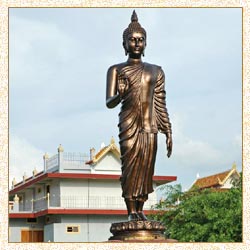 Kesaria Stupa is situated in the Champaran (east) district of Bihar. It lies at a distance of approximately 110 km from the capital city of Patna. The Kesaria Stupa holds the distinction of being the largest in the world, standing at a height of 104 ft. The Archaeological Survey of India (ASI) excavated the stupa in the year 1998. It is believed to date back to somewhere around 200 AD and 750 AD has a circumference of almost 1400 ft. The amazing stupa serves as a splendid example of Buddhist architecture and archaeological preservation.
The initial height of Kesaria Stupa, during the flourishing days of Buddhism in India, was approximately 150 ft. By 1934, when a massive earthquake shook India, the height of the stupa got abridged to 123 ft. After the earthquake, it further sank in the ground and got reduced to its present height. Interesting tales are attached with Kesaria. It is believed that Lord Buddha spent a night at this place before his Nirvana and gave his begging -bowl to the Lichhivis. It is further said that he even asked them to go back to Vaishali after his death.
Lichhivis are alleged to have built this stupa, as a commemoration of the end-life of Lord Buddha. A six-floors structure, Kesaria Stupa stands as a reminder to the last days of Lord Buddha and his humanitarian approach towards people, independent of caste and creed. The excavations carried out at the site of the stupa have led to some noteworthy findings, like Islamic coins, arrow heads, copper and terracotta items, earthen lamps, decorated bricks etc. There are also a number of Lord Buddha images, in "Bhoomi Sparsh Mudra" and other sitting postures.
How to reach Kesaria Stupa
By Air
The Patna airport is the nearest, lying at a distance of 150 km.
By Rail
Chakia is the nearest railway station from Kesaria Stupa, well connected with
Kolkata
and Delhi with broad gauge network.
By Road
Kesaria has a very good road network, well linked with cities like Muzzaffarpur, Motihari, etc.