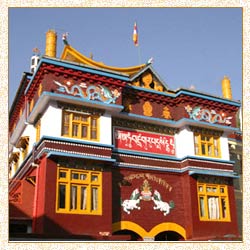 The state of Himachal Pradesh boasts of a sizeable population of the followers of Buddhism. It is but natural for the region to have numerous Buddhists monasteries on its landscape. As Himachal Pradesh has been under strong Buddhist influence, the spiritual leader of the Tibetans, the Dalai Lama, made Dharamsala in Himachal Pradesh as his residence.
Dhankar Gompa
Dhankar Gompa is a Buddhist monastery situated in the Spiti Valley of India. It stands perched at a height of 12,774 feet and falls between the towns of Kaza and Tabo. Dhankar was the erstwhile capital of Spiti Valley Kingdom during the 17th century. The monastery was built approximately one thousand years ago. One of the major attractions of Dhankar Monastery is statue of Vairochana (Dhayan Buddha), consisting of 4 figures seated back to back.
Tabo Monastery
Tabo Monastery is situated in the Spiti Valley of Himachal Pradesh. Perched at an altitude of 3050 m, it offers magnificent views of the valley below. The monastery was founded by the great scholar, Richen Zangpo, in the year 960 AD. Tabo Gompa, located in India, was meant to serve as an institution for advanced learning. Infact, it saw tremendous growth in the Tibetan art between 11th century and 20th century.