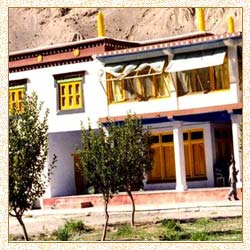 Tabo Monastery is situated in the Spiti Valley of Himachal Pradesh. Perched at an altitude of 3050 m, it offers magnificent views of the valley below. The monastery was founded by the great scholar, Richen Zangpo, in the year 960 AD. Tabo Gompa, located in India, was meant to serve as an institution for advanced learning. Infact, it saw tremendous growth in the Tibetan art between 11th century and 20th century. Tabo Monastery is adorned with a number of exquisite ancient murals, some of them dating back to the 11th century.
The entire complex of the monastery consists of nine structures, out of which the most popular one is the Duwang Lakhang. The huge Chaitya Hall boasts of magnificent architecture as well as a few splendid Buddhist sculptures. Apart from these, there is the four-faced magnificent Buddha idol, the Amitay Buddha (in seated position), a stucco idol of Bodhisattva Maitreya, etc. Because of its beautiful murals and stucco images, Tabo has been given the name of 'The Ajanta of the Himalayas'.
The monastery serves as the residence of approximately sixty monks. The main shrine inside the monastery is that of Tsug Lhakang and it is situated at the heart of the complex. Tabo Monastery also has a rich collection of clay statues of the Buddha, painted in the Kashmiri style.
How to Reach Tabo Monastery
By Air
The nearest airport of Kullu Manali is situated at a distance of 250 km from Tabo.
By Rail
The nearest railheads are those of Shimla and Pathankot.
By Road
One can reach Tabo through the following three gateways: