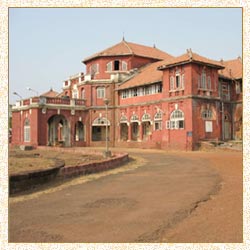 The city of Ratnagiri is situated in the in Jajpur district of Orissa, India. It lies at a distance of approximately 100 km from Bhubaneshwar city. The city stands encircled by rivers, namely Mahanadi, Brahmani, Kimiria and Birupa, in all the directions. A number of excavations have been carried out at Ratnagiri and they have dated the city to the period of the Gupta dynasty, i.e., somewhere around the 6th century AD. Numerous Buddhist structures were unearthed form the hill range nearby.
One of the excavations came out with a massive monastery, believed to be of the Mahayana sect. Apart from the monastery, numerous other items were unearthed, including stupas, chaityas, etc. Ratnagiri also holds the distinction of being a great learning center of the Buddhism of Tantric cult, known as Vajrayana. It has also been mentioned in the Tibetan Buddhist texts that the city witnessed the prosperity of the Kalchakrayana.
Tourist Attraction in Ratnagiri
Monastery
The entire complex of the monastery comprises of 24 cells, a large courtyard, a shrine in the front and a lobby. The entrance of the monastery is adorned with intricate art and chlorite stones. The doorway stands carved with gracefully cut out figures of males and a border of a row of flowers.
Stupas
There is a large stupa in Ratnagiri, surrounded by a number of small ones. These stupas, donated by various devotees, represent the prosperity of Buddhism in ancient India. It is probably the only site in India that has monolithic stupas in such a dense manner.
Motifs
The motifs, also known as Kunjalata and Patralata, represent the process of cultural transfer and adoption of items from Buddhism. The Buddhist sculptures, especially the one in Varada Mudra, boast of some of the most exquisite display of art.
How to reach Ratnagiri
By Air
The nearest airport of Bhubaneshwar is connected to the majority of key cities in India.
By Rail
The nearest railway station is at Cuttack.
By Road
Direct buses are available between Ratnagiri and Cuttack.