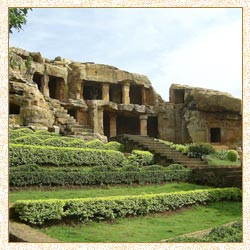 The city of Udaigiri is situated in Orissa, India. It lies at a distance of approximately 20 km to the northeast of Cuttack and 100 km from Bhubaneshwar. Udaygiri is one of the significant Buddhist destinations in India. During the ancient times, it served as a prospering learning center of Buddhism. A number of excavations have been carried out at Udaigiri, resulting in the unearthing of several caves.
These caves were found to contain some of the most antique and architecturally significant Buddhist sculptures. Some of them are Bodhisattva figures, while others have Buddha in a meditating position. Ancient Buddhist monasteries, stupas and other items found here symbolize the rich history of the city. Even the hills forming the backdrop of the excavations stand adorned with inscriptions and rock cut sculptures.
Cave number one is known as Rani Gompa and is adorned with splendid sculptures of elephants, monkeys, sword fights and abduction of women, all of them linked with King Kharvela. Cave number three and four are double story and are famous for their magnificent sculptures as well as their architectural simplicity. The sculptures consist of images like a lion and its prey, elephants with snakes around them, unusual winged animals on top of some pillars, etc.
How to reach Udaigiri
By Air
The nearest airport is in Bhubaneshwar, the capital of Orissa.
By Rail
Ratnagiri railway station lies nearest to Udaygiri.
By Road
One can easily get buses as well as taxis from almost all the major cities in Bihar, such as Bhubaneshwar.