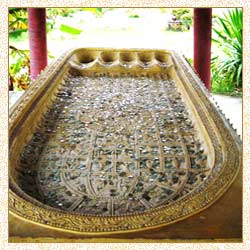 Buddhism symbols signify the Buddhist culture and religion. Most of the Buddhist symbols relate to the ancient period and are found in Hinduism also. These symbols of Buddhism impart subtle messages in life. They teach you how to live selflessly and have a contended life. In the following lines, we have provided information about the major Buddhist symbols...
Symbols for the Buddha
Lord Buddha was not very comfortable with accepting images of himself. This is because He never wanted to be respected as a person, but be known for His principles and His teachings. Still, the following symbols of Buddhism are used to signify Lord Buddha.