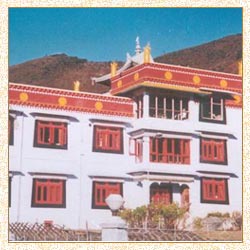 Bomdila Monastery, situated in state of Arunachal Pradesh, dates back to the year 1965. It owes its inception to the 12th reincarnate of Tsona Gontse Rinpoche, who got this monastery built before his death in the year 1966. The monastery of Bomdila is an imitation of the Tsona Gontse Monastery, located at Tsona in South Tibet. The main prayer hall of the monastery was added later on by the 13th reincarnate of Tsona Gontse Rinpoche. This hall was later sanctified by His Holiness, the 14th Dalai Lama, in October 1997.
Apart from the prayer hall, Bomdila Monastery also comprises of a temple of Lord Buddha and residential quarters for the monks. Also known as Gentse Gaden Rabgyel Lling Monastery, it is one of the most important centers of the Lamaistic faith of Mahayana Buddhism.
How to Reach Bomdila Monastery
By Air
The nearest airports are at Guwahati and Tezpur in Assam.
By Rail
The nearest railway station is at Tezpur, approximately 160 kilometers away. One can also go to Guwahati railway station, which is connected with major cities of India.
By Road
Local buses as well as jeeps are easily available from Tezpur for reaching Bomdila.