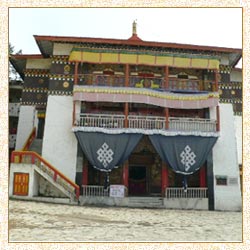 Tawang Monastery is situated in the state of Arunachal Pradesh. It lies at a distance of approximately 180 km from Bomdilla. The monastery stands hovering on a hilltop, at an altitude of approximately 10,000 ft. One of the largest Buddhist monasteries in India, Tawang Gompa also holds the distinction of being the birthplace of the 6th Dalai Lama. Known by the name of Galden Namgyal Lhatse also, the monastery dates back to the year 1860-61.
Founded by Merak Lama Lodre Gyamtso, it is an epitome of Buddhist architecture and belongs to Gelukpa sect. One of the major attractions of Tawang Monastery is the huge gilded statue of Lord Buddha. It also houses a rich collection of invaluable manuscripts, books and thankas (depicting Lord Buddha as well as other tutelary deities in diverse poses). At the entrance of the monastery is a pond, known as Dung Gyur Mani. The monastery sources its water from this pond only.
The entry gate, kakaling, as well as the ceiling stand adorned with a range of exotic paintings. The assembly hall, Dukhang, is beautifully decorated with silver caskets and thankas, mainly of Goddess Sri Devi. The entire complex of the monastery is spread over an area of 135 sq. m. The complex comprises of 65 residential buildings and 10 other structures. There is also a library, housing old scriptures (mainly Kanjur and Tanjur numbering 850 bundles).
How to Reach Tawang Monastery
By Air
The nearest airport is in Tezpur, well connected to almost all the major destinations of India.
By Rail
The nearest railway station is that of Rangapara (Assam).
By Road
Tawang is well linked with Bomdila, by road.