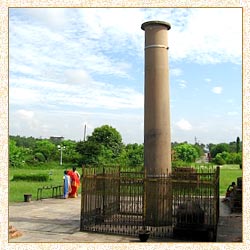 The district of Kaushambi is situated in Uttar Pradesh. It was the erstwhile capital of 'Vatsa Janpad', during the time of Buddha and came under the reign of King Udyana. Kaushambi also holds the distinction of serving as the host to Lord Buddha, in the 6th and 9th year after his enlightenment. It also had the good luck of being the place where Buddha delivered a number of sermons, thus elevating it to the status of a learning center for Buddhists.
A number of archaeological excavations have been carried out in Kaushambi. These excavations have led to the discovery of numerous sculptures, figurines, coins, punch-marked, cast coins, terra-cotta sculptures, etc. Other major attractions of Kaushambi include an Ashokan Pillar, an old fort and the Ghositaram Monastery. The monastery is believed to have been built by a wealthy merchant of the city.
A large number of architectural relics and ruins also came up during the excavations. There are also a number of stupas in Kaushambi, India. Of them, the most impressive one is 25 m in diameter and 25 m in length. It dates back to the 5th century BC.
How to reach Kaushambi
By Air
The nearest domestic airport is that of Varanasi.
By Rail
The nearest railway station of
Allahabad
is well linked with all metros and major cities of India.
By Road
The nearest road terminal is also that of Allahabad.
Nearby Cities
Allahabad - Approximately 51 km
Chitrakoot - Approximately 132 km
Kalinjar - Approximately 150 km