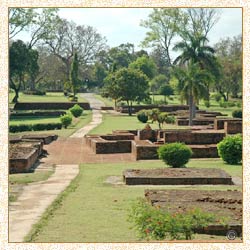 Sravasti is situated in the Gonda district of Uttar Pradesh. It was the erstwhile capital of the ancient kingdom of Kosala Mahajanapada. It is believed that Sravasti, also known as Sahet-Mahet, was founded by the legendary king Sravast. This place is important from Buddhism point of view because Lord Buddha performed a number of miracles here. It was in Sravasti that He displayed a million fold manifestation of himself. He was seated on a lotus (with thousand petals), with fire and water radiating from His body.
The magical feats exhibited by Lord, while sitting on the lotus, are still narrated by the people of Sravasti. The town also had the fortuity of playing host to Lord Buddha for 24 rainy seasons in the Jetvana Gardens. All the stories associated with Sravasti seem to establish Lord Buddha as a divine personality. Even though there is no evidence for most of the stories related to Sravasti, still the place attracts tourists from far and wide. Age-old stupas, splendid monasteries and a number of temples add to the appeal of Sravasti.
Tourist Attractions of Sravasti
Ananda Bodhi Tree
Lord Buddha meditated under this tree for a night. It is believed that the tree blesses devotees who meditate under it.
Jetavana
It is said that Jetavana hosted Lord Buddha and his pilgrims at one point of time. The story goes on further than one of the followers of Lord Buddha spread gold coins throughout the park. These coins were then used by Lord to build a vihara (monastery). Even today, it boasts of a number of sculptures built by Emperor Ashoka.
How to reach Sravasti
By Air
The airport nearest to Sravasti is that of
Lucknow
, which is well connected with almost all the major cities of India.
By Rail
The nearest railway station is at Balrampur, well connected with Lucknow.
By Road
There is a good road network joining Sravasti to the major cities of Uttar Pradesh.