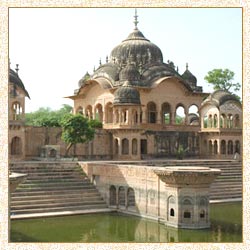 The city of Mathura is situated on the western bank of the river Yamuna, in Uttar Pradesh. It lies at a distance of approximately 145 km from Delhi, the capital of India, and 58 km from Agra, the city of Taj. The city holds the distinction of being the birthplace of Lord Krishna, a Hindu God. Along with being a major Hindu pilgrimage, Mathura is also one of the prominent Buddhist sites in India. It also had the fortuity of hosting Lord Buddha, once in His lifetime. Even after His mahaparinirvana, Mathura prospered as a major Buddhist center, till about 9th century CE.
Mahakachhayana, a distinguished scholar and a disciple of the Buddha, was responsible for sermonizing the thoughts and principles of Buddhism to the people of Mathura. With the construction of a monastic complex in Mathura by Upagupta, the religious teacher of Emperor Ashoka, the religion started budding in the city. During that time, Mathura school of art also flourished here, which became a famous attribute of the Buddha's sculptures.
There have been references of about twenty Buddhist monasteries, three stupas and five Deva temples in Mathura. However, by the 11th century, Buddhism started declining in the city.
How to reach Mathura
By Air
Delhi airport is the nearest to Mathura, approximately 52 km away.
By Rail
Mathura has its own railway station, well connected with major cities of India like Delhi, Mumbai, Kolkata,
Lucknow
, etc.
By Road
The city of Mathura lies on the National Highway-2 and has regular bus services to Madhya Pradesh, Uttar Pradesh, Delhi, Rajasthan and Haryana.
Nearby Cities
Delhi - Approximately 145 km
Agra
- Approximately 58 km