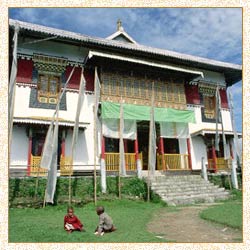 Pemayangtse Monastery is situated in the Pemayangtse town of Sikkim, India. It lies at a distance of approximately 140 km to the west of Gangtok. Perched at an altitude of 6840 ft, it is one of the oldest monasteries of Sikkim. Lama Lhatsun Chempo got the monastery built, mainly for the 'ta-sang' lamas (the purest of monks). However, with time, the monastery started serving the entire community. Pemayangtse Gompa of India boasts of a splendid collection of ancient Buddhist antique idols, scriptures as well as sculptures.
Magnificent sculptures and gracefully decorated paintings adorn the first floor of the monastery. One of the major attractions of the Pemayangtse Monastery is a seven-tiered painted wooden structure, portraying Guru Rimpoche's Heavenly Palace 'Santopalri'. Late Dungzin Rimpoche took five years to finish this structure single handedly. Presently, it is situated on the top floor of the monastery. The Chaam (monk dance) is held every year, on the 28th and 29th day of the 12th month of the Tibetan Lunar Calendar.
The lamas also take part in the dance and dress up in beautiful costumes, to represent Mahakala and Guru Drag-dmar. The dance comes to an end, on the third day, with the unfurling of the Ghyo-Ku' and gigantic embroidered Buddhist scroll.
How to reach Pemayangtse
By Air
The Bagdogra airport, in West Bengal, is the nearest to Pemayangtse.
By Rail
The nearest railway station is at Siliguri. One can also go to the New Jalpaiguri railway station.
By Road
Pemayangtse is well connected to Pelling by road, which in turn is well linked to Gangtok.