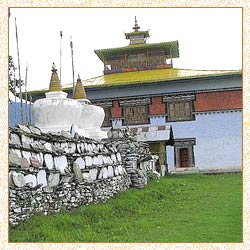 Tashiding Monastery is situated in the state of Sikkim. It lies at a distance of approximately 40 km from Gyalshing and 19 km to the south east of Yoksum. Perched on top of the hill rising between the Rathong River and the Rangit River, it provides breathtaking views of the scenery below. Tashiding Gompa of India dates back to the year 1717, which coincided with reign of the third Chogyal Chakdor Namgyal. It is located on the site blessed by the great Guru Padmasambhava.
The legend associated with the monastery goes that Padmasambhava shot an arrow into the air to select the place where he would sit in meditation. The place where the arrow landed, eventually, became the site of the Tashiding Monastery. Built by Ngadak Sempa Chembo (one of the three wise men who consecrated ceremony of the first lama), Tashiding Monastery belongs to the Nyingmapa order. The main temple of the monastery was rebuilt some time back only. It stands encircled by traditional buildings, chortens and mani (stone plates).
Mani stand inscribed with the sacred Buddhist inscriptions, like "Om Mane Padme Hum". The stone plates are the work of the master craftsman, Yanchong Lodil. The chortens, preserving the relics of Sikkim Choygal and lamas, stand at the far end of the complex. Out of the numerous chortens, the most significant one is the 'Thong-Wa-rang-Dol'. Literally meaning 'Saviours by mere sight', this chorten is believed to cleanse the soul of any person who looks at it.
The annual festival of the monastery, known as the Bumchu Ceremony, is held in 14th and 15th day of the first month of the Tibetan Calendar. The ceremony, which is held at midnight, attracts devotees from far and wide.
How to reach Tashiding Monastery
By Air
The nearest airport is that of Bagdogra in West Bengal. It is well connected to Kolkata, Guwahati, Patna and Delhi.
By Rail
The nearest railway station is at New Jalpaiguri.
By Road
Taxis as well as buses are easily available for Ghezing, from Siliguri and New Jalpaiguri. There are daily bus services from Yoksum and Ghezing.