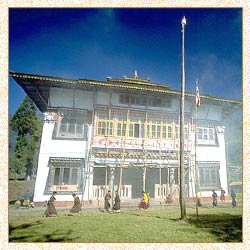 Phensang Monastery is situated in Gangtok, the capital of Sikkim, on the gentle slope that spreads from Kabi to Phodong. This monastery dates back to the year 1721, the time of Jigme Pawo. It belongs to Nyingmapa Order and serves as the residence of approximately three hundred monks belonging to the same order. However, the journey of the monastery from the 18th century to the present times has not been totally pleasurable. In 1957, Phensang Gompa of India witnessed a devastating fire that engulfed it entirely.
However, the lamas of the monastery put in efforts to build it again. In 1948, their hard work paid off and the monastery got completed. Phensang hosts an annual festival on the 28th and 29th day of the tenth month of the Tibetan Calendar (usually December). Sacred dances are performed at this festival, which takes place two days before the Sikkimese New Year.
How to reach Phensang Monastery
By Air
The nearest airport is that of Bagdogra in West Bengal.
By Rail
The nearest railway station is at New Jalpaiguri.
By Road
National Highway 31 A connects Gangtok with Kolkata, Siliguri, Darjeeling and Kalimpong. Regular bus services, jeeps and taxis are available between Gangtok and Siliguri.