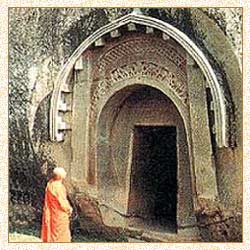 Barabar Caves are situated in Barabar Hills, at a distance of approximately 20-25 km to the north of Gaya, Bihar. These hills are famous for the four rock cut caves that are sited here. Dating back to the 200 BC, these caves were constructed during the reign of Emperor Ashoka, for the Ajivikas. Carved out of a huge granite rock, these caves look as if they are cut with a laser. The caves were designed in a way that they look like wood.
Out of the four caves, the most significant one is the Lomas Rishi Cave. The facade of the cave has been based on the architecture of the thatched huts, which used to house ascetics in the ancient period. The interiors of the cave consist of a big rectangular chamber, adorned with amazing glass-like polish. The nearby Nagarjuni Hill also consists of two caves, namely Sudama and Chaupar. Founded by Asoka's grandson, these caves boast of polished interiors, but plain exteriors.
How to Reach Barabar Hills
By Air
The airport of Gaya is well connected with almost all the important cities of Bihar.
By Rail
Gaya railway station is the nearest to Barabar Hills.
By Road
There are regular bus services as well as taxi services for Barabar Hills from Gaya.