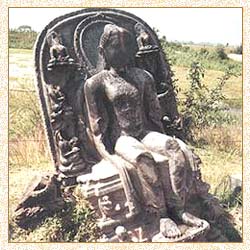 Jethian is a small village situated near Rajgir town of Bihar, India. In the ancient time, it used to be known as Lativana, or the Palm Grove. In 7th century AD Jethian also served as the seat of influence of Jayasena, the famous saint. Even Hiuen Tsang, the famous Chinese traveler, spent two years of his stay in India here, studying as a disciple Jayasena. Apart from that, it was in Jethian that Lord Buddha met King Bimbisara for the first time. Infact, there is a small story behind the meeting of Lord Buddha and King Bimbisara.
It is said that after coming from Sarnath and Bodhgaya, Lord Buddha left for Rajgir, in order to meet King Bimbasara. As soon as the King came to know of this, he went to the outskirts of the city, along with his entire staff, to welcome Him. There are numerous Buddhist structures as well as Buddha statues in and around Jethian. As you move towards this village, you will come across a large mound with a tank. The mound is believed to be the remains of the stupa built over the Supatittha Cetiya, the place where Lord Buddha stayed, when he was in Jethian.
Beside the mound, is a huge and impressive statue of Lord Buddha. Then, there are the statues of Padmapani and Buddha, situated very close to the mound. Not to be missed is the Chandu Hill, located at a distance of approximately 3 km from Jethian. This hill is quite popular as it houses the large cave of Rajpind (the cave mentioned in the Tripitaka).
How to reach Jethian
By Air
The nearest airport is that of Gaya.
By Rail
Rajgir railway station is the nearest to Jethian and is well connected with Gaya.
By Road
Regular buses as well as taxi services are available from Rajgir to Jethian.