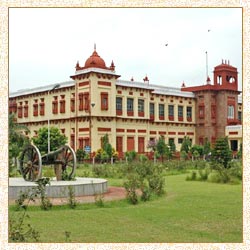 Patna is the capital of the state of Bihar. It is situated on the banks of the holy river Ganga. In the ancient, the city was known by the name of Pataliputra. Patna has the fortuity of being visited by Lord Buddha, when he had to cross the mighty river on his last journey to Kushinagar. It also serves as an entry point for most of the Buddhist destinations located in Bihar. Patna came under the empire of Ashoka, at the time of rise of Buddhism in India. Right from the advent of Buddhism in India, the city has been an important center of learning.
Patna also served as the venue of the Third Buddhist Council held under the patronage of Emperor Ashoka. One of the major attractions of the city, from Buddhism point of view, is the Patna Museum. The museum boasts of an amazing collection of Buddhist art, dating back to somewhere around 8th century AD to 12th century AD. The most magnificent pieces of art consist of the statues of Avalokitesvara and Maitreya. Apart from that, the city also houses some large pillars and the foundations of a Buddhist Monastery, known as Anand.
How to reach Patna
By Air
Patna airport is well connected with almost all the major cities in India. Indian Airlines and a number of private airlines operate out of Patna.
By Rail
The railway station of Patna is located in the main line of the Eastern Railway. It is well linked with almost all the important cities of the country and most of the cities in Bihar.
By Road
Patna falls on the National Highway No 30. Patna is well connected to the key cities within the state as well as the country.