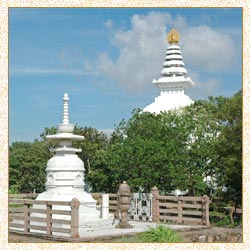 Rajgir is situated in the state of Bihar, encircled by five holy hills. It lies at a distance of approximately 34 km from the city of Gaya. The name of the town has been derived from the words 'Raj Griha', meaning 'the abode of the king'. During the lifetime of Lord Buddha, Rajgir served as the capital city of the Magadh Empire. It also has the distinction of serving as the host to Lord Buddha, during the reign of King Bimbisara.
Prince Siddhartha (early name of Lord Buddha) came to Rajgir, after he renounced the luxuries of life and undertook asceticism. Two of the rock-cut caves of Rajgir were the favorite retreats of the Buddha. It was here that He preached two of his most renowned sermons.
Tourist Attractions in Rajgir
Shanti Stupa
One of the major Buddhist attractions at Rajgir, the Shanti Stupa is a huge structure in white, situated on the top of the Ratnagiri hill. It is adorned with four gold statues of Buddha, representing the four stages of His life, namely His birth, His enlightenment, His teaching and His death.
Saptparni Cave
Saptparni Cave served as the venue of the first Buddhist council, which was held after the attainment of Nirvana by Lord Buddha. It also boasts of a Burmese temple and a modern Japanese temple.
Gridhakuta Hill
Lord Buddha delivered many discourses here, after His enlightenment. Two of His most important sutras, the Lotus Sutra and the Prajnaparamita, were dispensed at Gridhakuta Hill.
How to reach Rajgir
By Air
The airport nearest to Rajgir is at Gaya. One can also take a flight from Patna airport, which is linked to almost all the key cities of India.
By Rail
Rajgir has its own railway station. However, the railway station of Gaya is better connected with the major cities.
By Road
Rajgir has a good road network that connects it with some of the major cities of Bihar and India.