Vaishali district is situated in the state of Bihar. It lies at a distance of approximately 60 km from the capital city of Patna. The place gains significance from the fact that it is here that Lord Buddha announced the imminence of his Mahaparinirvana. Vaishali also witnessed one of the eight great events in the life of Lord Buddha. It was here that a monkey offered Him a bowl of honey. Lord Buddha also visited Vaishali five years after the attainment of His enlightenment. The Lichhvis offered a grand welcome to the Lord on his arrival in Vaishali.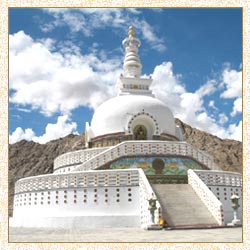 He displayed some extraordinary and divine presentations of his spiritual superiority here. This led to mass induction of people into Buddhism. Infact, it is believed that at that time around eighty four thousand people adopted Buddhism. One of the most important events that took place at Vaishali was the induction of females into the Sangha. It is believed that even Mahaprajapati Gautami, the foster mother of Buddha, joined the order here, along with the other Sakya-women.
Tourist Attractions of Vaishali
Ashokan Pillar
There is a Lion Pillar at Kolhua, which was built by Emperor Ashoka. The pillar has been chiseled out of a highly polished single piece of red sandstone. An 18.3 m high structure, it stands surmounted by a bell shaped capital. A life-size figure of a lion is adorns the top of the pillar. This pillar beside a brick stupa at Kolhua commemorates Buddha's last sermon.
Budha Stupa-I
This stupa enshrines one-eighth of the sacred ashes of the Lord Buddha, in a stone casket.
Budha Stupa-II
Another casket containing the ashes of the Lord Budha was found here, during the excavation carried out in 1958.
Abhiskek Pushkarn (Coronation tank)
This tank served as the venue of all the coronation ceremonies of Vaishali's elected representative. The Lichchavi stupa was located near here. It was here that the stone casket of the sacred ashes of Lord Buddha was enshrined in Vaishali.
Shanti Stupa
The Shanti Stupa, built by Buddha Vihar Society, lies on the south bank of the coronation tank.
How to reach Vaishali
By Air
The nearest airport is that of Patna, approximately 70 km away.
By Rail
The railway station of Hajipur is the nearest to Vaishali.
By Road
Vaishali is well connected by road to Patna, Muzaffarpur, Hajipur, etc.